Meet the Audi SUV Family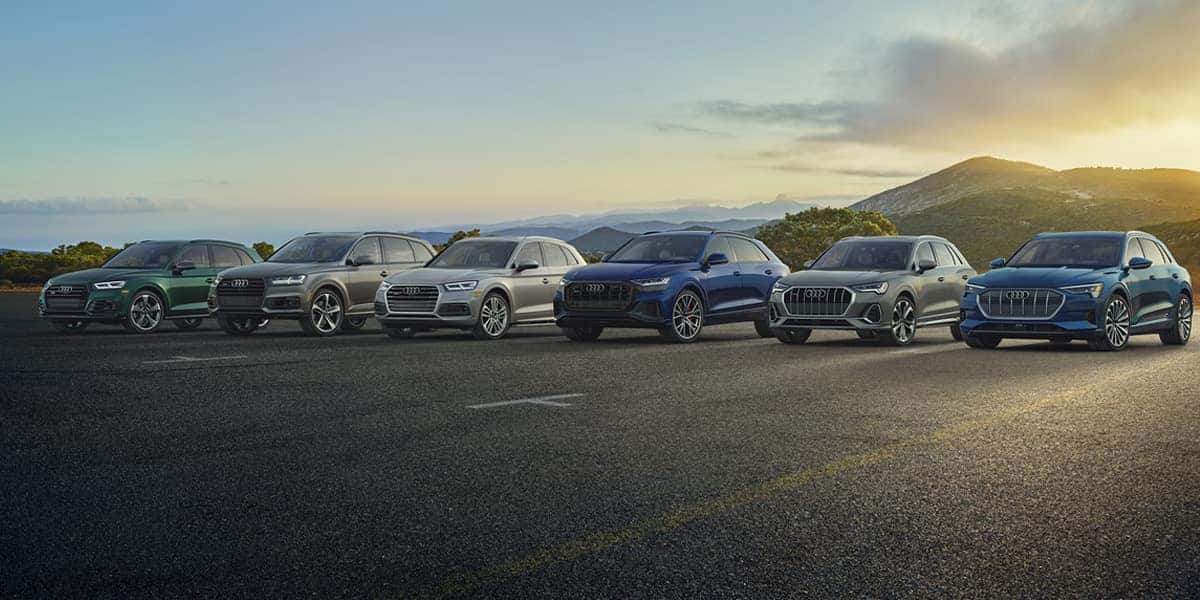 The Audi SUV family is a collection of sleek, comfortable luxurious mid-size SUVs.
There are seven model members in this Family.
Audi Q3
The very first luxury crossover SUV made by Audi. It is a compact two-row SUV, with an elegant interior. with an above average cargo space. It runs on a 4-cylinder engine that produces about 184HP, an all-wheel drive and 8-speed shiftable automatic transmission. It is equipped with high end tech features like gesture control, satellite radio, wireless device charging, remote start, proximity keyless entry and many more. The latest model is the 2021 Audi Q3.
An entry level Q3 premium costs about $35000.
Audi Q4 e-tron
This Electric luxury SUV is yet the cheapest electric SUV from Audi with it's starting price falling below $45000. It's a perfect balance between the Q3 and Q5 after it.
The standard model runs on a 77kWh battery 201bhp total output. It is an all-wheel drive.
The Q4 sports back e-tron is a more aggressive version of Q4 e-tron with a more muscular exterior design.
Audi Q5
Among the Audi SUV family, the Audi q5 is regarded as the ultimate because it embraces comfort, class, style and dynamics.  It is more than just a pretty face, running on a 2.0L four-cylinder engine, it can reach a speed of 60mph in 5.7 seconds and has a max output of 261HP.
Like other SUV's in the Audi family, it is an all-wheel drive. It can accommodate up to 54ft³ cargo with the rear seat backs folded.
Audi Q7
It is a three-row refined ride with an elegant cabin design with leather furnishings. It has an entry level engine of 248-hp turbocharged four-cylinder.  Unlike other members in the Audi SUV family, its infotainment features are a bit fiddly. It however is a very comfortable car to drive.
Audi Q8
The coupe SUV designed was first launched in 2018. Its exterior design is one of the most captivating among the Audi SUV family. It has a spacious interior that seats a maximum of five passengers, a sleek digital dashboard dominated by screens controlling the infotainment technology features.
It is also equipped with latest cutting-edge technology both for infotainment and safety. It however costs high for a mid-size luxury SUV with a starting price just above $69000.
Audi SQ8
The Audi SQ8 is powered by a twin turbocharged 4.0L V-8 engine producing about 500HP and 568lb-ft torque. Quite a performance for the simple looking SQ8. It is a 4-door hatchback with an 8-speed automatic transmission. In comparison to the exterior, the interior is spacious, and heavily laden with high tech digital controls.
Audi RS Q8
The first Audi Sport SUV and latest addition to the Audi SUV family, it has an exotic interior with leather upholstery and massaging front seats. It possesses standard features like power liftgate, heated aide mirrors, and high-performance brakes. Even though the latest in the family, we strongly believe it falls behind the SQ8 before it.
Warranty exists on purchase of any of the Audi SUV's you purchase.
When you walk into our dealership at Cherry Hill Imports Auto Group, near Philadelphia our customer friendly sales team will assist you in making a choice of the best SUV for you. Whether you are buying or leasing, our finance team can assist you with to ensure you get the best deal.  You can search our online inventory for new and used Audi and schedule a test drive to begin your journey to owning this family-friendly SUV.