Audi Quattro Cup 2019
Cherry Hill Imports Auto Group hosted the 2019 Audi Quattro Cup on behalf of The Cooper Foundation. The event was held at the Medford Lakes Country Club, in which more than 60 golfers came together to raise $43,000 for the Children's Regional Hospital at Cooper. The money raised at this event will go toward supporting their Pediatric Emergency Department, the Neonatal Intensive Care Unit, and their Level I Trauma Center.
The Children's Regional Hospital* at Cooper is dedicated to providing high quality care and services to the community's children and their families. They are a leader in Pediatric Inpatient Care, and are the only Pediatric Trauma Center and acute care children's hospital in South Jersey. In addition, they have the only hospital-based pediatric surgery program in South Jersey. We ask that you join us in supporting this facility so that they can continue to provide quality care and service to our children and their families.
Cherry Hill Imports Auto Group is a family-owned business serving the Cherry Hill, Voorhees, Mount Laurel, Moorestown NJ and Philadelphia communities since 1978. The group has grown to a team of 400 professionals, including sales associates, technicians, and service support staff. The group sells and services Volkswagen, Porsche, Audi, Mercedes-Benz, Jaguar, and Land Rover. One of the groups' goal has always been to serve their customers and their community.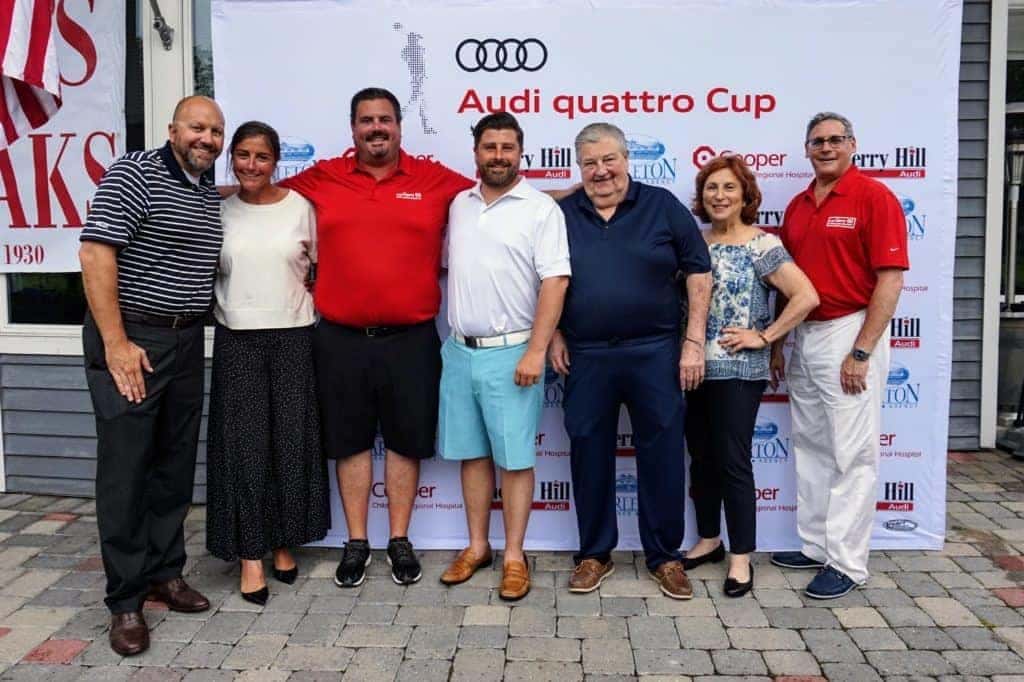 Pictured Above: Tournament Committee Members: Louis DiMattia, Amanda DiMattia, Tim Carleton, Andrew Hartung and Michael Hartung; Susan Bass Levin, President & CEO of The Cooper Foundation, Dr. Michael Goodman, Chairman and Chief of the Department of Pediatrics.
Information obtained from: https://www.cooperhealth.org/services/childrens-regional-hospital